Samsung's Gear VR has been an evolving platform for virtual reality over the last few years, but the latest version of the headset feels like a culmination of all the previous tech into one slick and easy to use product, thanks in large part to the new controller it's bundled with.
The HTC Vive or PlayStation VR may be the better experiences on the market, but Samsung's option still largely benefits from the USPs of portability and a much lower price.
If you own a Samsung phone from the last few years, you can use it in tandem with the latest version of the Gear VR and still get a great virtual reality experience.
This new headset announced alongside the Samsung Galaxy S8 and Galaxy S8 Plus will be compatible with previous Samsung phones including the Galaxy S7 and Galaxy S6 range, so this headset will be replacing the older Gear VR model.
Samsung Gear VR price and release date
The new Samsung Gear VR will release April 21 to the tune of $129 (about £100, AU$117) and includes both the updated headset and its new accompanying controller. 
For those already rocking a Gear VR headset, Samsung plans on selling the controller separately for $39 (about £30, AU$50).
Comparatively, the 2015 version of the headset originally cost $99 (£80, about AU$130) but dropped down to a price of about $60 or £50 from some sources. 
Design
The design of Gear VR sits somewhere between the Oculus Rift DK 2 and Google Daydream View. 
There's a plastic shell that's moulded into a familiar ski goggle headset design, on the back of which is an elastic strap that fits around the sides.
Previous versions of the Gear VR have included a plastic part of the strap that goes over the top of your head, but when we tested this headset it just featured elastic straps. These still left it feeling secure on the face and the headset feels slightly lighter too.
It allows you to move your head around with ease and there's no issues of wires, which are a big problem with the HTC Vive.
Putting the Galaxy S8 inside the headset also didn't make it feel too heavy. You can easily move the straps with Velcro to ensure it's close enough to your eyes, while there's padding on the inside to keep it comfortable around your face.
This isn't something you'll want to wear for hours at a time though, so the design is comfortable for a few minutes rather than long gaming stints like you may expect from the PlayStation VR.
The focus adjuster on the top might need a bit of tweaking, especially if you're a glasses wearer. Despite the impressively low latency and high resolution, virtual reality is still at a point where some people will come away feeling a tad queasy, so it's important that you're always using Gear VR at optimum clarity. 
The design of the new headset is a little slimmer than previous iterations. The plastic cover on the front of the Gear VR now also sits flush to the rest of the headset, making it much more attractive now.
There aren't many other improvements when it comes to design though. Samsung has also provided color options that match the phones and it looks a little nicer with a brushed metal feel on some versions, but this won't be an upgrade you desperately need if you already own a Gear VR.
Controller
Samsung Gear VR compatibility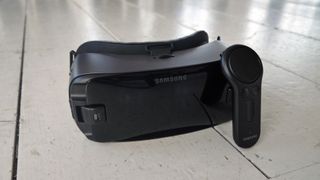 You can use the new version of the Samsung Gear VR and the controller with these phones:
Samsung Galaxy S8
Samsung Galaxy S8 Plus
Samsung Galaxy S7 Edge
Samsung Galaxy S7
Samsung Galaxy S6 Edge
Samsung Galaxy S6
For controlling the Gear VR, you can use the touchpad on the side of the headset, but this never made for a comfortable gaming experience.
The touchpad is suitable for setting up a viewing experience, such as a movie, but isn't best suited to gaming, so this time Samsung has included its new Gear VR controller in the box.
This is a controller designed to be used one handed and feels more like a TV remote than a traditional gaming controller.
It also feels like a cross between the Google Daydream remote and an Oculus Touch controller. It makes gaming on the Gear VR a much better experience.
We played a zombie shooting game on the headset and it felt much slicker than on previous versions of the device. That was all down to the controller, which, for example, you can point to use as a gun and shoot with a trigger on the back.
It means you won't need to be staring at things to interact with them and you can move your head in a much more natural way. Once you've used the controller, you'll wonder how Samsung released the Gear VR without it, as it feels much more natural than tapping at the side of your head.
That said, we did find the controller struggled to keep up with our movements.
It may be the particular game we played, but it seems the Gear VR does struggle a little to track the controller properly. This could be also be because it's a pre-release headset, so we'll test this properly when it's time for our full review.
There are back, home and volume buttons on the controller for when you're navigating around the system. Holding down the home button in a game can re-calibrate where the controller is, which is useful when it messes up.
Then at the top of the controller there's a touchpad, which can also be used in some games, but we didn't get the chance to test it during our demo.
The 2,960 x 1,440-pixel, 5.8-inch OLED display from the Galaxy S8 provided a sufficiently rich image, but it still can't compare to other more complex VR experiences.
It did feel slick though and the improved GPU performance of the Galaxy S8 should mean a slightly better experience if you use this headset with Samsung's latest phone.
To create the optical illusion of virtual reality the Gear VR divides your phone into two screens that blend together again when viewed through the lenses. But while undoubtedly impressive, the limitations of Samsung screens are still noticeable.
The resolution and latency are good but limited by a device that wasn't primarily built for virtual reality. In particularly vibrant worlds the pixels are still visible, creating a barrier to full immersion that's often hard to overlook.
Early verdict
Samsung's newest Gear VR is a limited update to the already released headsets, but it's still the best mobile experience for virtual reality on the market.
Google's Daydream is getting better, but Gear VR still sits comfortably ahead and the inclusion of the Gear VR controller is a useful feature for anyone looking to get into virtual reality with their Samsung phone.
It's a shame the headset is only compatible with Samsung phones still, but more developers seem to be getting on board with Oculus' software and we should begin to see even better content coming to the platform.
If you're looking for an affordable virtual reality experience and you're already tempted by a new Samsung phone, this is going to be the VR experience you'll want to go for.