Samsung might have delayed the launch of the Galaxy S8, but there's been no halt in the leaks and rumors about the phone, with a photo and renders having now shown up.
The photo, posted to Weibo (a Chinese social network) and spotted by TechTastic, shows the bottom half of the phone with the screen on, and it looks like it could well be the real deal.
There's a curved display and a bottom edge that's almost identical to the Samsung Galaxy S7 Edge, containing a headphone port and a speaker grille, but what looks to be a newer USB Type-C port, where the S7 Edge has a micro USB one.
The screen also takes up most of the front of the phone, with just a thin black bar below and no home button, suggesting that rumors of the fingerprint scanner being moved to the back are accurate.
No more surprises
The renders meanwhile are less official, but are supposedly based on factory CADs (computer-aided designs), and come from @OnLeaks – one of the more reputable leakers in the business.
These show both the Galaxy S8 and the Samsung Galaxy S8 Plus, and have a design that matches the leaked image above, with no home button and a mostly screen-filled front, but with an iris scanner and 8MP front-facing camera above the display.
The left edge houses the power and volume buttons, while the right has an additional button, believed to be used to launch Samsung's Bixby voice assistant.
Round the back there's a glass panel, with the 12MP camera and fingerprint scanner at the top, but notably neither phone has a dual-lens camera.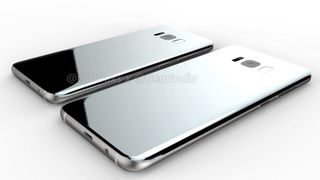 Apparently the Galaxy S8 will come in at 148.90 x 68 x 8mm, making it only marginally bigger than the 142.4 x 69.6 x 7.9mm Galaxy S7, despite supposedly having a 5.7 or 5.8-inch screen, while the Galaxy S8 Plus will be 159 x 74 x 8mm, which would be a little larger than the 150.9 x 72.6 x 7.7mm Galaxy S7 Edge, but again, the screen will likely be bigger at 6.1 or 6.2 inches.
Other apparent specs include a 3,250mAh battery in the Galaxy S8 and a 3,750mAh one in the Galaxy S8 Plus, which in both cases is slightly larger than we'd heard before, but most of the other specs line up with previous leaks, including talk of a Snapdragon 835 or Exynos 8895 chipset (likely region-dependent) and 4GB or 6GB of RAM.
With this latest leak there really is very little we haven't at least heard rumors about, but of course none of this will be official until Samsung says so, likely at the end of March.
Before the S8, we'll probably get the LG G6